Alice Henwood Earl (1871 - 1961)
James and Elizabeth Lawn - Alice's adoptive parents
A few years later another family, in no way related, enters the picture.
On 1 September 1866 James William Lawn, a horse dealer, married Elizabeth Mason in London at the church of Paddington All Saints. At the time both were resident at 30 Spring Street, Paddington.
Elizabeth, aged 44 in the 1881 census, was born c. 1837 in East Bridgeford, Nottinghamshire, the daughter of John Mason, a farmer. James William, aged 51 in 1881, was born 29 January and baptised 10 February 1829 in Limpenhoe, Norfolk, to James and Charlotte Lawn. James was an agricultural labourer but described as a farmer on his marriage certificate.
Two years later occurred the series of events which apparently linked the Lawn family with Alice Henwood Earl. 19 April 1868 John and James Lawn, twin boys, were born to James and Elizabeth Lawn at 9 Osborn Street, Whitechapel. James's occupation is now that of beer house keeper. Sadly baby John lived for only 10 hours and his surviving twin James was registered for birth as John on 21 April 1868.
The Post Office London Directory for 1871 lists James Lawn as a beer retailer at 9 Osborn Street, but the family was not living there at the time of the 1871 census which was taken the 2nd of April. Later that decade James figures in the Post Office Directory for 1878-1880 as a cab proprietor operating from Cardington Street, Euston Square. Son John, now aged 12, is admitted to St. John School, Titchborne Row, Edgware Road the 5th of April 1880.
ADMISSION AND DISCHARGE REGISTER
BOYS 1875 - 1911
Admission No:
902*
Date of admission
5.4.1880
Name
John Lawn
Date of Birth
19.4.1868
Name and address of parent or Guardian
Jas.(Cab Proprietor)
4 Connaught Square Mews
Last school (if any) attended
Private
No other information, including date and reason for leaving, is given.
* In this column is written "F.Bib". Judging by similar notes for other children, I think this indicates that the family bible was used as evidence of John Lawn's date of birth.
(Ref. LCC/EO/DIV02/STJO2/AD/001)
Sadly the school is no longer there as the whole area has been redeveloped and is now the Watergate Gardens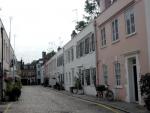 Connaught Square Mews where Alice was living with the lawns in 1881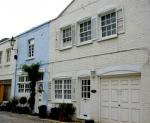 Devonshire Mews (now Radnor Mews) where Alice lived with the Lawns just prior to her wedding in 1889
Whether Alice also went to St. John School, or to a corresponding school for girls, is not known since the register, if there ever was one, has not survived. What is certain, however, is that Alice was living with the Lawn family as their adopted daughter. The 1818 census entry for 4 Connaught Square Mews, Paddington, reads as follows:
James
LAWN
Head
M
51
Cab Proprietor
Elizabeth
"
Wife
M
44
John
"
Son
13
Allis(sic)
HENWOOD
adopted dau.
9
Exactly when and how Alice became adopted daughter to the Lawn family is unclear. Regulation of adoption practice was not formalised until early in the 20th century. On the evidence available it appears that William and Augusta Hearn were operating a baby farm at 30 Crawford Street which doubtless performed a valuable service to some of the young mothers and to couples wanting to adopt. The Lawns had lost a child in 1868, Alice was born in 1871 and her mother Frances would not have been able to raise a child without a level of family support which was clearly not available. James and Elizabeth had no other children of their own, and one can only speculate on the exact details of the situation which led them to adopt Alice. She is with the family in the 1891 census on 8 Devonport Mews, Paddington:
| | | | | | |
| --- | --- | --- | --- | --- | --- |
| James W. | LAWN | Head | M | 65 | Cab Proprietor (Employer) |
| Ellen(sic) | " | Wife | M | 58 | |
| Jno. W. | " | | S | 24 | Merchant's Clerk (employment) |
| Alice H. | EARL | | S | 19 | Visitor Dressmaker (employment) |
And it seems reasonable to assume that Alice remained with her adoptive family until her marriage in 1899 when she was aged 29.
On the admittedly limited evidence available it seems also reasonable to assume that Alice was raised in a stable and affectionate family environment, becoming the daughter that James and Elizabeth Lawn did not have. Those of us privileged to know Alice as a mother and grandmother remember her as a 'bubbly' individual, warm and generous, whose greatest pleasure consisted in looking after people. As her grandson, George Aldis vividly recalls visiting her in hospital shortly before her death. Her only concern was that she was no longer able "to do for you", as she put it. Again, one can only speculate, but it seems unlikely that such a spontaneous and affectionate adult could have been the product of anything but a secure and happy childhood.