Mary Ann Aldis (1794-1889)
From NORFOLK ENGLAND to CHATHAM CANADA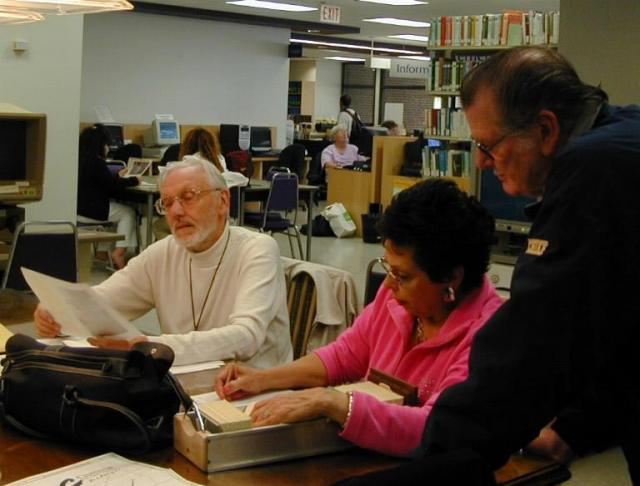 George Aldis – (relative of Robert Aldis) Northampton England, Diana Skaggs (direct descendent of Mary Ann) Detroit USA) and Walter Aldis (direct descendent of Mary Ann) Detroit USA - working on original documents in the Chatham Kent Ontario (Canada) Library in 2005
Mary Ann Goldworth and Robert Aldis
In 1837 Mary Ann ALDIS emigrated to Canada. Aged 43, and widowed with four surviving children, she left Tivetshall in Norfolk and sailed with her young family to North America, probably to Quebec, Canada. The following account by a relative of the man she married is an attempt to convey some impression of this courageous and resourceful woman and to tell the story of her remarkable adventure.
Mary Ann GOLDWORTH was born the 9th of May and baptised the 8th of June 1794 in Morningthorpe, Norfolk. She was the first of nine children born to Salem Goldworth and Mary Chapman.

St Mary's, Morningthorpe – with the distinctive Norfolk round flint tower. Many Goldworth tombstones can be seen in the churchyard.
On the 23rd of January 1817 Mary Ann married 21-year old Robert Aldis, then of Bungay though born at Tivetshall, at Holy Trinity Church Bungay. Their marriage was witnessed by Mary Ann's brother Alfred and sister Eliza; both bride and groom signed the register. Five children were born in due course: Lucilla at Brooke in October 1817; Robert also at Brooke in July 1819; Salem Goldworth at New Buckenham in July 1821; Alfred also at New Buckenham in June 1823; and Mary Ann at Tivetshall in April 1825. Of these five children, Lucilla died in July 1929, aged 11, and was buried at Tivetshall; no record in either Norfolk or Canada of daughter Mary Ann ALDIS has been found after 1837, and it has been assumed that she died during the sea voyage, aged about 12. The big turning point in the lives of this family came in May 1832 when Robert ALDIS died at the early age of 36 in Tivetshall, leaving Mary Ann a widow aged 38.
Robert ALDIS was the first child of James ALDIS of Long Stratton (1771-1855) and his first wife Hannah DIX of Tivetshall (c1773-1802) who were married in Long Stratton on the 24th of March 1795. Born exactly a year later in Tivetshall, Robert was not baptised until December 1803 in Long Stratton, by which time his mother Hannah was dead. Hannah gave birth to her second child Lucy Hannah on the 8th of October 1802, and by the end of that month she was dead, aged 29, possibly as a consequence of the birth. Hannah was buried in Tasburgh on the 31st of October 1802.
Hannah DIX came from a long established and prominent Quaker family in Tivetshall. Her husband James was the schoolmaster in Long Stratton and a dissenting protestant minister, though not a Quaker; later he became Registrar for Depwade. It seems likely that there was some disagreement between James and Hannah, and Hannah's family possibly, concerning the baptism of Robert. She and her family, understandably, would have wanted her son to be baptised as a Quaker in Tivetshall, while James, though a dissenter, still leaned towards the established church; and his Deed of Assent, which licensed him to practise as a schoolmaster, further compromised him. So it looks as if they decided to do nothing about their son's baptism until Hannah's untimely death resolved the matter. Daughter Lucy Hannah was duly baptised on the 15th of November 1802 and in 1827 she married Richard MILLER of Loughton, Essex in Clare, Suffolk. A noteworthy DIX was Mary, daughter of Robert DIX, a farmer in Tivetshall, and his wife Mary, who was born c. 1739 and married Daniel ALDIS in 1761. Daniel was surgeon of Moulton and Dickleburgh while Mary was leader of the women's section of the Quaker Meeting House in Tivetshall. They had 16 children, several of whom became surgeons, including Charles ALDIS, born 1776, who was knighted, albeit in suspicious circumstances, by King George IV in 1820. Charles was a surgeon of Barts & Guys. London, who introduced vaccination into Hertfordshire.
James ALDIS (1771-1855) took over the school in Long Stratton established by his father Edward ALDIS (1717-1790), and in 1803 he married Esther BAILEY of Tasburgh with whom he had a further nine children between 1805 and 1824. (A detailed account of the ALDIS family in Long Stratton and the neighbouring villages of Wacton and Moulton can be found in the present writer's "Edward Aldis Schoolmaster, and Aldis of Long Stratton", copies of which have been deposited in relevant Norfolk libraries.) James's son Robert was also a schoolmaster in New Buckenham between, approximately, 1821 and 1824.