Edward Aldis Schoolmaster and Aldis of Long Stratton (1717 - 1790)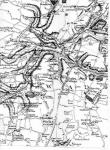 Part of Faden's 1797 map of Norfolk showing Long Stratton as Stratton St Mary.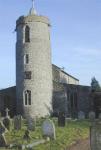 St Mary's, Long Stratton. Of the 170 round tower churches in England 75% are in Norfolk. Many, like this one, are built of flint and are thought to pre-date the Norman Conquest - possibly built as defence against Viking invaders. St Mary's has a fine 14th century east window and a very rare Sexton's wheel - one of only two known. The medieval device, in the north aisle, consists of two rotating iron wheels which determine the date of the Lady Fast.
In 1740 Edward Aldis became the Schoolmaster in Stratton St. Mary, Norfolk (later merged with its sister parish Stratton St. Michael to become the present Long Stratton). His Deed of Assent [1], dated 17 July 1740, reads: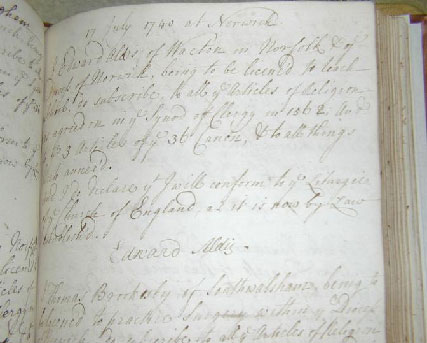 I Edward Aldis of Wacton in Norfolk and in ye Diocese of Norwich being to be licenc'd to teach School do subscribe to all ye Articles of Religion as agreed on in ye Synod of Clergy in 1562; And to ye three Articles of ye 36 Canon, and to all things hereto annex'd.
And I do declare ye I will conform to ye liturgie of ye Church of England as it is now by law established.
Edward Aldis
Edward was buried 16 March 1790, his wife Mary 24 March 1806, and their gravestone still stands in Stratton St. Mary churchyard, as does that of their son James who took over the School from his father and conducted it until his death in 1855.
Edward Aldis, 4 x great-grandfather of George Aldis (1935- ), was one of three children born to Edward Aldis and his wife Elizabeth. Baptised 7 April 1717 in Moulton, Edward was well established in Stratton before his marriage to Mary Ringar on 2 January 1749.
Baptised 12 June 1732, daughter of William and Martha Ringar who were married 10 October 1721, Mary was at most 18 on marriage. It is tempting, but quite fanciful of course, to suppose that she was Edward's pupil before becoming his wife.
Detailed records exist of the eleven children born to Edward and Mary and of their descendants. Before them, however, the picture is incomplete and less certain. Edward's father Edward was baptised 3 June 1683 in Wacton, spending the whole of his life there until his burial on the 2nd April 1757. It seems that Edward granted Administration* since a listing includes 'Edward Aldis of Great Wacton in 1757'; unfortunately, the document has not survived.
Parish records confirm that Edward was intermittently Overseer for the Poor* of Wacton between 1711 and 1729. From the Moulton Account Book* from 1693 we learn that Edward was paid regular sums of parish money for looking after a boy, presumably an orphan, referred to as Holyday. In 1724, for instance, he was paid 5 shillings*
"in part for keeping Holyday a year and a half";
shoes for the boy cost 3 shillings and 4 pence, stockings 1 shilling and 4 pence, and "3 pairs of breeches and a hat" 3 shillings and 6 pence.
Edward's own family was just two children: his first son Thomas died in infancy, and a second surviving son William followed Edward in 1722. Also known is that his wife Elizabeth was buried there 25 October 1763. What is not known, however, is who Elizabeth was or where and when she and Edward married. While the registers of Stratton seem to be complete, those of neighbouring Wacton and Moulton are frustratingly not. There is a gap, for example, in the Moulton register between 1676 and 1695, and no additional information in Transcripts*. It may be, of course, that Edward's wife Elizabeth came from another parish, or from Norwich, and that their marriage c. 1712 will turn up in a register currently unsearched.
Like his father, Edward played his part in the community as a parish official. He was Overseer for the Poor and Church Warden in Stratton St. Mary and is recorded, in 1748, as being co-signatory with Andrew Aldis to an agreement with parishioners for the use of common land in Moulton and Wacton. Later Vestry Meeting Records show Edward signing poor orders between 1785 -1788, just two years before his death. In October 1785, for example, he authorised an allowance of clothes to,
'Jonathan GOWDY'S girl Sarah.....since going to
live with William Aldis,
presumably as a servant
Of the 11 children (possibly 12, since the parish register lists the burial 1 April 1760, but no baptism, of a Thomas) born to Edward and Mary, 6 died in infancy or childhood, from their first born, Mary (baptised 22 January 1750, buried 24 January 1750), to their last, Ephraim (baptised 29 August 1774, buried 27 December 1780, aged 6 years). Of the survivors, George and James lived into their eighties and were prominent citizens of Stratton where they spent all of their long lives, their death notices being recorded in local newspapers. Between them they had 6 wives and 22 children of whom 15 survived. James's tombstone stands in another part of Stratton St Mary churchyard to the north-west of the Church: