Edward Aldis Schoolmaster and Aldis of Long Stratton (1717 - 1790)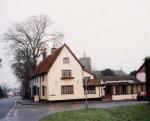 A cottage near the church, which can be seen in the background, which the brothers would surely have known, if not owned.
Both James and George left a will.
James's (Norwich Consistory Court) is dated 3 April 1845 and was proved 12 May 1855, James having died 31 March 1855. His wife Esther and son William are named, respectively, executrix and executor. The will directs that his messuage, schoolhouse, lean to and other buildings be sold for the benefit of his wife Esther and of his children.
The will of George, who was buried 28 July 1855, is dated 1 December 1852 and was proved 1 March 1856. George's named executors are his wife Hannah together with Harcourt Howlett elder and younger, amended by codicil to Hannah and Alfred Cunningham; the original witnesses, James C. Calver and Maria Hunty, changed to James C. Calver and Eliza Harness. George left £5 to each of his executors and all of his furniture and effects to his wife. He further directed that all of his copyholds, cottages, lands, tenements and hereditaments be disposed of; of the proceeds thereof, one half is to go to his wife (or to Harcourt Howlett if his wife predeceases him) while the other half is to be shared equally between his children.
Death notices for James and George appeared in the Norfolk Chronicle & Norwich Gazette for, respectively, 7 April 1855
On Saturday last, in the 84th year of his age, Mr James Aldis of Long Stratton
and 4 August 1855
On the 24th ult, in his 87th year, Mr George Aldis, of Long Stratton, in this county.
The other 3 surviving children of Edward and Mary were Susanna (baptised 30 June 1755) who married Robert Doe in Wacton 20 December 1773); Elizabeth (baptised 1 March 1767) who married Robert Hammond in Stratton 21 October 1790 and was buried 15 January 1848, aged 80, also in Stratton; and William, the direct ancestor of George Aldis. William (baptised 4 march 1761) married 18 March 1783 Susanna Thirkettle with whom he had 6 children, all of whom survived, before his early death in 1793, aged 32. Susanna endured a long widowhood before her burial in Stratton 15 April 1845 in her 90th year. Their tombstone survives in Stratton St Mary churchyard amongst the group to the South of the Church containing the stone for Edward and Mary:
William Aldis died 30 July 1793 aged 32 years
Also
Susanna his Wife who died 15 April 1835 in her 90th year
John, the last child of William and Susanna, is the direct ancestor of George Aldis. Baptised 28 May 1793, John married Mary Rookard 19 march 1812 in Moulton. (The Archbishop's Transcript for Moulton All Saints and St Michael records the marriage 19 March 1812 as between James Aldis, single man, and Mary Rookard, spinster of this Parish....by Banns. Since no children have been found for a James and Mary, the entry is presumed to be an error of transcription. The children of John and Mary are all recorded for baptism, as is their marriage, in the parish register for Moulton). John and Mary had 10 children, 7 of whom survived, in Moulton, Tivetshall and Stratton St Michael before his burial in Stratton 7 June 1850, aged 57. Mary predeceased him by some 16 years, her burial aged 42 being in Stratton St Michael 4 September 1834. Little more than a year earlier she had given birth to her last child and second Ephraim, born 15 July 1833 but not baptised until 1837, who was the great grandfather of George Aldis.
The first Ephraim born to John and Mary, baptised 25 July 1830, lived for only 25 weeks; that they named their next and last child also Ephraim may or may not be significant. Was it in memory of the Ephraim whom Edward and Mary had lost in 1780? Possibly not, since John did not name a son after his grandfather Edward. It seems more likely that Ephraim was named after his Uncle Ephraim, first child of William and Susanna, baptised 16 September 1785, who became a builder.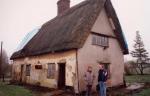 Old cottage in Stratton St Michael with George Aldis (in hat) standing outside.
Whereas the four generations preceding Ephraim had spent their entire lives in Stratton and adjacent villages, Ephraim left Norfolk and never returned. Was his departure owing to family circumstances or a reflection of the changing social context of the nineteenth century - or both? Ephraim's mother Mary had died when he was only 14 months old, his father John when he was barely 17. Fortunately he had older sisters, Mary (b.1817), Harriet Sarah (b.1819), and Susan (b.1821) who doubtless looked after him immediately following his mother's death, Lucy (b.1824) and Eliza (b.1826) taking over as they grew up and the older girls either married or went into employment. By 1841, however, according to Census returns, Mary, Harriet Sarah and Eliza are no longer living at home, the family consisting only of John (aged 45) and Ephraim (aged 7) together with Susan (aged 20) and Lucy (aged 18). Ephraim's much older brother William was still in the village, but living separately with his own growing family. William, it should be noted, is absent from the 1841 Census, as he is from that for 1851. He reappears, however, in 1861 and is regularly listed thereafter until his death in 1906
Stratton St. Mary RG/9/1233 District 10f. 135 Street
William Aldis
Head
Mar
48
Horse Breaker
Norfolk Tivetshall
Hannah do.
Wife
Mar
52
do.
Pulham St. Mary
Robert do.
Son
MUn
22
Horse Breaker
do. Str. St. Mary
Henry do.
Son
Un
17
Miller
do. do.
George do.
Son
15 (Ap)
Coach Builder
do. do.
By 1851, John having died in 1850, the family is dispersed and Ephraim is not listed anywhere in the Census for Norfolk. Since he married Eliza, daughter of James and Eliza Patten, in Plumstead 4 September 1859, he must have moved south by1850/1851. Eventually he settled in Bexley, Kent, where he and Eliza raised a family of 7 from 8 births:
EPHRAIM
born 1861, birth not registered;
died 1929
Chelsea, London
unmarried
WILLIAM ROBERT
born 1862 Greenwich
died 1937
Battle, Sussex
unmarried
ELIZA HARRIET
born 1866 Bexley, Kent
died 1961
Bexley, Kent
unmarried
ERNEST WALTER
born 1869 Bexley, Kent
died 1961 Winchester
married Alice Henwood Earl 1899
FREDERICK JAMES
born 1873 Dartford, Kent
died 1963 Ware District
married 1911 Hertford
ARTHUR
born 1875 Dartford, Kent
died 1940 Dartford, Kent
unmarried
HILDA SARAH
born 1878 Dartford, Kent
died 1964 Dartford, Kent
unmarried