Emily Rebecca Morris (1865 - 1936)
22nd November 1865 - 16th October 1936
Emily Rebecca Morris represents the meeting point of two cultural traditions and two social developments. On her father's side are several generations of John MORRIS, solid Kentish stock;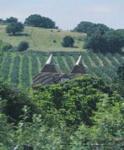 The hop fields and oast houses of Kent
but her maternal line goes back a similar number of generations to DELASAUX, DUTHOIT, BATAILLE, equally solid HUGUENOT stock living in Canterbury and London.
Emily Rebecca MORRIS, mother of Mabel Victoria DAY, and the maternal grandmother of the present writer, was the second of eight children born to John MORRIS and Mary Jane ELLIS in and around Canterbury, Kent, between 1864 and 1878. Her forebears were mainly Kentish families going back several generations to the early 18th century; yet Emily Rebecca married a Londoner, all of her seven children were born in the East End of London, and she remained a Londoner for the rest of her life. At the time of her marriage to Charles John DAY in August 1889, her family was living, apparently, in Latimer Street, Stepney; and it was in the parish church of St Peter, Stepney that she married.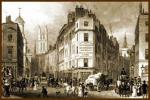 This picture shows a wagon turning into Cornhill – St Peter's church is visible further down the road.
Described as a 21-year old spinster at her marriage, Emily was actually 23; but there is no suggestion that she intended to deceive anyone about her age. She was just a little vague about it, as she was about where she was born, and even her own name! By the time of the 1891 census the MORRIS family is back in Kent, at Whitstable
1891 Census: 17 Church Road, Whitstable, Kent. RG12/711 f.81a
MORRIS
John
Head
M
52
Bricklayer's lab.
b. Petham
MORRIS
Mary J.
Wife
50
b. Canterbury
MORRIS
William
Son
Un
23
Groom
b. Littlebourn
MORRIS
Henry
Son
Un
16
Baker's App.
b. Littlebourn
MORRIS
Albert
Son
Un
12
b. Ickham
MORRIS
Millicent
Dau
Un
18
Dressm'r App
b. Littlebourn
where they remain until 1901.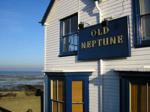 The Old Neptune Pub on the seafront at Whitstable
1901 Census: 18 Church Road, Whitstable All Saints, Kent. RG13/799 f.18
MORRIS
John
Head
M
64
Jobbing Gardener
b. Petham
MORRIS
MaryAnn
Wife
M
62
b. Canterbury
MORRIS
Millicent
Dau
S
25
Dressmaker
b. Littlebourn
and indeed until John MORRIS's death in 1905 (see end)
Not much is known about Emily Rebecca's life apart from the details that can be recovered from official records. Indeed, elusive might be the word to describe her since she led her grandson researcher a merry dance to begin with. Just to locate her officially was frustratingly difficult, since Emily was not born Emily, but Emma; and she was somewhat vague, moreover, about her birthplace and age. An early sighting of her as a married woman with her family suggests that she was born in Woolwich:
1901 Census: 21 Florence Road, St Luke's, West Ham, Custom House
Charles J.
DAY
Head
M
32
Dock labourer
b. London
Emily R.
DAY
Wife
M
34
b. Woolwich, London
Daisy
DAY
Dau
11
b. Poplar, London
Charles Wm.
DAY
Son
9
b. Plaistow, W. Ham
Frederick J.
DAY
Son
8
b. Essex, West Ham
William H.
DAY
Son
5
b. Essex, West Ham
Mabel V.
DAY
Dau
3
b. Essex, West Ham
Jessie E.
DAY
Dau
11 months
b. Essex, West Ham
A painstaking search of the birth registers for Woolwich, and indeed for all of the adjacent registration districts, produced no Emily Rebecca MORRIS born c1867. It was not until she was located in the 1891 census that her Kentish origins came to light:
1891 Census: 27 Kelland Road, St Andrews, Plaistow, West Ham. RG12/1324 pp.45/46
DAY
Charles J.
Head
M
22
Gen. labourer dock
b. Stepney
DAY
Emily
Wife
24
b. Littlebourn, Kent
MORRIS
S.
Sister
S
26
b. Canterbury, Kent
DAY
D.
Dau
1
b. Stepney, London
Note: S MORRIS is Sarah Ann, Emily's sister, while D.DAY is Daisy, listed in the 1901 census as having been born in Poplar; the registration has not been found.
It was then relatively straightforward to find her birth in Littlebourne (see end) and to follow the MORRIS family in the 1871 census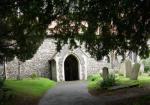 Entrance to St Vincent's Church Littlebourne, Kent
1871 Census: Littlebourn Village, Eccle, District of Canterbury & Deanery of Bridge, Kent
MORRIS
John
Head
M
33
Butcher journeyman
b.Waltham
MORRIS
Mary J.
Wife
M
32
b . Canterbury
MORRIS
Sarah A.
Dau
6
Scholar
b. Canterbury
MORRIS
Emma R.
Dau
5
Scholar
b. Littlebourn
MORRIS
William
Son
3
Scholar
b. Littlebourn
MORRIS
Bertha
Dau
2
b. Littlebourn
MORRIS
Fanny
Dau
3 weeks
b. Littlebourn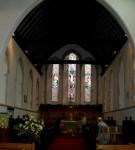 Interior of St Vincent's Littlebourne
and in the 1881 census on Ickham and Wells
1881 Census: Lincis dwelling, Ickham & Wells, Kent. RG11, Piece 0956, f. 36, p.23
MORRIS
John
Head
M
43
Groom, dom. servant
b. Petham
MORRIS
Mary
Wife
M
42
b. Canterbury, St Pauls
MORRIS
Emma
Dau
15
b. Littlebourne, Kent
MORRIS
William
Son
13
Ag. lab.
b. Littlebourne,Kent
MORRIS
Bertha
Dau
11
b. Littlebourne, Kent
MORRIS
Fanny
Dau
9
b. Littlebourne, Kent
MORRIS
Millicent
Dau
7
b. Littlebourne, Kent
MORRIS
Henry
Son
5
b. Littlebourne, Kent
MORRIS
Albert
Son
3
b. Ickham, Kent.
Note that Emma remained Emma until her marriage in 1889 to Charles John DAY. Exactly when, or why, she switched from Emma to Emily we can never know; probably as a young adult she simply decided that she wanted to be known as Emily; possibly Charles had something to do with it, though neither Emma nor Emily is prominent in his background. Whatever the reason, she remained Emily for the rest of her life.
Like her daughter, Mabel Victoria, Emily died of bronchial pneumonia. Aged 70, she ended her days at Central Home, Leytonstone, the death being registered by husband Charles.(see end)
Charles, for his part, living at 371 Romford Road, West Ham, was earning what one can only imagine to be a rather precarious living as a "commission agent". He would have been 67 at the time of Emily's death, and his own death has not been found. Of their children, what we know about two of their daughters, Mabel and Millicent, has been told in the DAY section of this family history. Of their sons, at least two survived the Great War because, on the 18th July 1920, William Victor, then aged 25, living in East Ham and working as a clerk, married Elsie Eliza FRY, aged 22, in Ilford, one witness to the ceremony being his older brother, Charles William (see end).
Charles himself, then a Royal Artillery Gunner, had married a few years earlier, in 1915, Ruby SIMPSON, aged 21, in the parish church of Southwark, the event witnessed by his mother Emily and sister Mabel. Almost inevitably in a family of this size, there were infant and child deaths. Jessie Edith, born 1900, died the following year, aged 13 months, of gastro-enteritis; and the second son, Frederick John, born in 1891, died in 1905, aged 12, of appendicitis.