Emily Rebecca Morris (1865 - 1936)
WILLIAM ELLIS and MARY ANN SIMMONDS
Mary Jane ELLIS was the second of five children born to William ELLIS and Mary Ann Simmonds. Apart from William's birth c1811 at Bruton in Somerset, the family lived out their entire lives in Canterbury. William, a shoemaker, married Mary Ann, a shoebinder born in 1812 at Canterbury St George the Martyr, on the 6th of June 1834 by banns at Canterbury St Peter. Both bride and groom were able to sign the register, and the ceremony was witnessed by Martha ELLIS and Stephen SIMMONDS who was Mary Ann's uncle, her father Joseph having died at the relatively early age of 53 in 1831 at Canterbury St Paul. Their children were all baptised at St Paul's Canterbury, Mary Jane on the 12th of November 1837, having been born on the 27th of September. A previous Mary Ann, baptised on the 13th of August 1835, presumably died in infancy, as did a son William who had been born in 1836. Mary Jane's birth certificate is unusually specific, stating the time of her arrival in this world at a "quarter before twelve o'clock at night" and the precise address: "1 Union Row, Oak Alley, Joy Lane, St Paul, Canterbury." The birth was registered on the 2nd of October. The 1841 census for the district lists William and Mary Ann at Oak Alley, Joy Lane, with Mary (sic) aged 3 and a son Richard aged 1.
By 1851 the family has moved to Wincheap Street, Canterbury St Mildred, where it was to remain for more than 30 years. The 1851 census shows William and Mary Ann in their early forties with T. Jane (sic) aged 13, a nursemaid, Richard aged 11, an errand boy, and scholars Fanny, aged 9, and Sarah aged 7. By 1861 only Richard, aged 21, a shopman, and Fanny, aged 19, are still at home; and by 1871, where the dwelling is listed as 17 Wincheap Street, William and Mary Ann in their sixties are the only occupants. Mary Ann died in 1878, aged 66, though the certificate records her as being 72; William lived on through the 1881 census, when he was a 70 year old widower still described as a shoemaker, until the 18th of May 1882 when he was buried at St Mildred, aged 72 and still a bootmaker. The death was registered by his daughter Sarah Ann HALL of 23 Artillery Gardens, Canterbury.
So how did it happen that this family of fairly humble shoemakers and shoebinders became the permanent residents of 17 Wincheap Street, assuming that they were not the owners of the property? The answer lies in another entry from the 1851 census on Canterbury:
Wincheap Street, St Mildred
Mary Ann
DeLasaux
Head
Un
65
Proprietor of House
b. Canterbury
Mary Ann DELASAUX was probably living at another property in Wincheap Street, possibly even next door to William and Mary Ann ELLIS.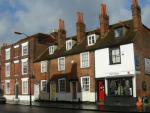 Some houses that must have once been very desirable residences
The connection is that Mary Ann ELLIS, born SIMMONDS, was the niece of Mary Ann DELASAUX and daughter of her sister Elizabeth who had married Joseph SIMMONDS in 1808 at Christchurch Canterbury. Mary Ann DELASAUX, baptised the 4th of December 1785 to Thomas and Elizabeth DELASAUX, never married. Her extensive will, written in 1843 with a codicil added in 1854, was proved in 1854.
Mary Ann DELASAUX had brothers, Thomas Thorpe and James, and a sister Elizabeth who married Joseph SIMMONDS and who was the mother of Mary Ann ELLIS. Mary Ann's will reveals her to be a wealthy spinster owning properties and land extending to some 42 acres in the parish of Dymchurch. Certain of these properties are occupied, probably both as dwellings and as solicitors' premises, by William Bolton Courcy, Richard Minter Mount, and Thomas Foreman who are named as Mary Ann's executors. Her principal beneficiaries are her brother, Thomas Thorpe DELASAUX and subsequently his heirs, and several nephews and nieces who were the children of her deceased sister Elizabeth and brother-in-law Joseph SIMMONDS. The bequests are as follows:
1.Nephew Joseph DeLasaux SIMMONDS (subsequently his heirs) is to inherit a 32 acre lot known as Beaux Hoarn in the parish of Harbledown.
2.Nephew James Stock SIMMONDS (and heirs) is gifted properties in St George's Place, St George the Martyr, and in St Paul and in the City of Canterbury.
3.Spinster Mary Ann Witherden of St Mildred, presumably a close friend or even companion, is left property at Wincheap Green in St Mildred.
4.Her trustees and solicitors are to inherit properties in Northgate Street and Military Road to be sold for the benefit of their heirs.
5.Her personal residence at Wincheap Green, St Mildred, plus 4 out of 5 other properties there together with the residue of her estate not otherwise assigned is willed to her niece Mary Ann SIMMONDS and to her heirs and assignees. Mary Ann is also gifted absolutely her aunt's clothes, jewellery, furniture, linen, plate and so on, together with horses, stables and livery.
6.Nephew Thomas SIMMONDS is gifted £50, and various other cash bequests include a £100 donation to the Kent and Canterbury Hospital "for their care and kindness shown to my parents in their last illness" and a further £100 to the hospital's charities.
So this was the will of an extremely wealthy woman who obviously went to considerable pains to dispose of her assets efficiently and sensitively. She makes it quite clear that all duties and expenses are to come from her personal estate so that legacies are not reduced from the declared sums, and that bequests, especially those of cash, are to be paid within 6 months or earlier so that servants and domestics benefit as soon as possible. We have no way of knowing what sort of person Mary Ann DELASAUX was; but her will shows her to have been a shrewd business woman who was kind and considerate to family, friends and servants.
When Mary Ann made her will in June 1843 she would have been aged about 58. A codicil was added in May 1854 when she would have been nearly 70 and presumably close to death since the will was proved in July 1854. The codicil provides for the eldest son, Thomas Pauli DELASAUX, of her brother Thomas Thorpe, who, on his father's death, is set to inherit Mary Ann's personal property, originally willed to Mary Ann SIMMONDS. A slightly curious bequest is the free use to be had by her servants of her personal residence, and furniture and fittings, for 6 months following her death. Her personal maid Sarah Bourne is granted the furniture and fittings in her personal bedroom, and an additional £15 is to be received by each of the servants and domestics in her employ at the time of her death to supplement the previously willed gratuities. In all other respects, the provisions of her original will are confirmed.
So Mary Ann SIMMONDS/ELLIS was left comfortably provided for by her aunt, and it is hardly surprising that she and William remained at the same address in Wincheap Street for the rest of their lives. Whether they needed their shoemaker/shoebinder occupations in order to provide a living for their family, or whether they simply pursued their trade out of interest, we cannot know; probably it was a mixture of the two. The impression is gained, nevertheless, that whereas Mary Ann DELASAUX was an independent middle-class woman making the most of her family's accumulated wealth and social position, Mary Ann and William ELLIS were a working-class couple, raising children who went into ordinary occupations such as shopman. The huge difference between them and most working-class families was that they had secure accommodation for life; one wonders whether their son Richard inherited it on his parents' deaths. It might be interesting, moreover, to research the life of Mary Ann DELASAUX's brother, Thomas Thorpe, and his descendants to see whether the male line continued the fortune and prestige built up by previous DELASAUX generations - but such an enquiry would be beyond the scope of this family history.