Mary Ann Aldis (1794-1889)
The Journey to Canada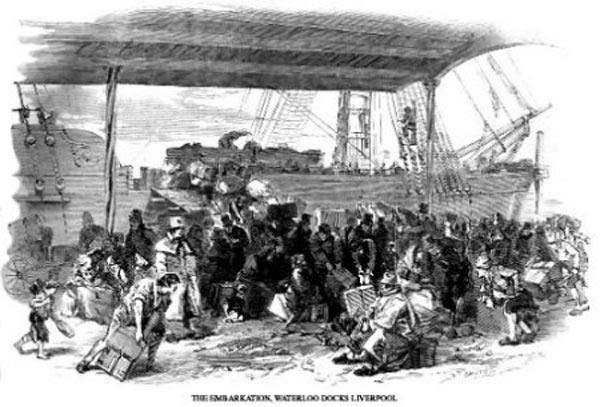 The Embarkation, Waterloo Docks, Liverpool

The Departure
It seems likely that Mary Ann, despite her privileged background, would have chosen to travel as cheaply as possible in order to preserve what money she had to establish her family in Canada. Again, we have no information. A more or less contemporary drawing depicts emigrants on board 'The Cambridge' being allowed above deck if the weather was fine.
In an excerpt from the journals of Anne Langton and her mother, "A Gentlewoman in Upper Canada", the writer issues the following advice to anyone contemplating the Atlantic crossing:
"Bring a small mattress with you, for the aching of the bones when obliged to toss upon a hard, uneven surface for some days is no trifling inconvenience…..bring a few basic cloths, for one is apt to look upon one's wash-hand basin with perpetual mistrust…..avoid a crowded packet-ship…..or perhaps a packet ship at all. A person should have health and spirit to stand the noise, the confusion…..The dinner benches having backs you cannot move without disturbing several…..I wish these backs were on some of the stools, for unless you are lucky enough to get one of the sofa corners there is no rest for the head….."
One gets the impression that Anne Langton was not minded to rough it along with the majority of passengers. How Mary Anne fared, and what her attitude was, we do not know. Was she prepared to accept the conditions whatsoever in order to achieve her goal of reaching Canada and beginning a new life there? One would imagine so.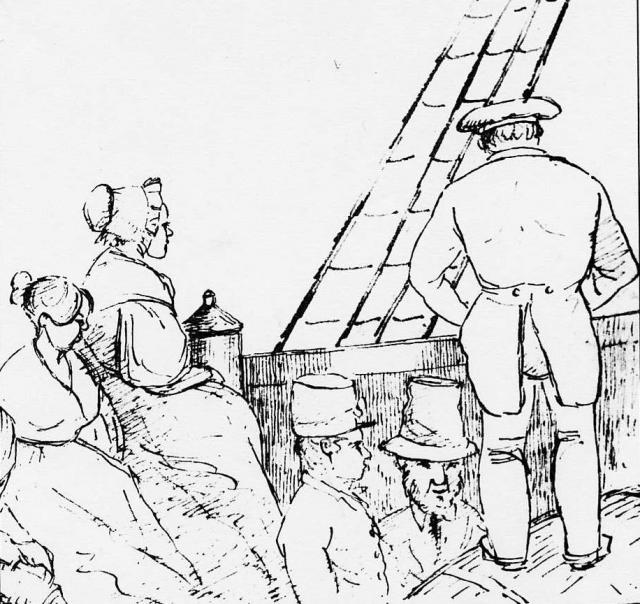 The previous picture, drawn by one of the emigrants – Titus Ware (1810 – 1890) shows emigrants on the deck of the 'Cambridge' in fine weather in the late 1840's. The niceties of good manners seem to have left the gentleman on the right who appears to be relieving himself over the side of the ship whilst standing very close to two women .