Mabel Victoria Day (1897 - 1943)
Stonemasons were skilled and well-paid artisans, proud of their expertise and manual dexterity,
who protected their status through a system of apprenticeship and local trade associations developed from the earlier guilds. Masonry combined the skills of architect, artist and civil engineer, and an individual craftsman might be required to build or repair anything from a church doorway to a pavement. A qualified mason would have completed a seven-year apprenticeship with a master mason followed by two years as a journeyman craftsman before he could apply to be a master and take on pupils. He also needed financial assistance, from a wealthy father, for example, to afford the increased entry fees paid by masters; being the son or son-in-law of a master guaranteed concessionary fees. Charles, it would seem, either enjoyed none of these advantages or chose not to avail himself of them. His ambition, apparently, was to work as a mason and to support his rapidly growing family. This choice might have been forced upon him, of course. Demand for stonemasons was small by comparison with that for carpenters or potters, and a further obstacle to becoming a resident master was the requirement to be a burgess, which entailed owning property. So it is not surprising that Charles became a peripatetic mason, travelling to wherever a project offered work, accompanied by his wife Eliza and family. Whether Charles ever joined a trade association and enjoyed the benefits of such membership in return for the quarterly subscriptions again is not known. Benefits included being welcomed as a 'brother' and allowed to work officially in preference to unregistered masons or "cowans" (dry-stone wallers who tried to pass themselves off as masons), as well as a form of insurance in the event of sickness and also assisted travel expenses. Records show, however, that this level of self-regulation declined during the 19th century, only a small proportion of practising masons registering as members of an association with the consequence of significantly dwindling association funds. That Charles regularly gained work on large public projects may indicate that he was a paid-up associate; but we cannot know with any certainty.
Charles DAY married Eliza TURNER the 26th January 1829 in the church of St Andrew the Less, Barnwell, Cambridge, both being parish residents though no banns were called. Charles signed the register while Eliza made her mark; witnesses were Charles TURNER, who signed, and Frances TURNER who made her mark.
Eliza TURNER
Eliza TURNER, baptised the 19th January 1812 at Cambridge Holy Trinity, was the daughter of Samuel TURNER and Elizabeth HEDERICK who, as single residents of Holy Trinity, had been married there the 7th February 1808. Samuel and Elizabeth TURNER had 6 children, all in the same parish, between Charles baptised the 22nd May 1808 and Edward John baptised the 14th January 1819. Samuel is described as a bricklayer and, later, as a lamplighter of King Street.
Charles evidently found work in Cambridge since his first three children were born there: Marianne was baptised the 27th September 1829 at St Clement, Elizabeth the 20th May 1832 at Holy Sepulchre, and John, born at East Road, Barnwell, was baptised the 18th September 1836 at St Andrew the Less. So Charles and Eliza remained at least seven years in Cambridge. The next sighting of them is in Westminster, London, where Sarah, their fifth child, was born; William, the fourth, was born c1838 probably between Cambridge and London, but the record has not been found. Sometime between 1837 and 1840 Charles and Eliza moved to London where we find them in the 1841 census on Hyde (now Hide) Place.
Hyde Place, Westminster,Middlesex
Charles
DAY
30
M
N (not born Middlesex)
Eliza
do
25
N
Alfred
do
20
M
N
Anne
do
60
N
John
do
5
N
William
do
3
N
Sarah
do
4 months
Y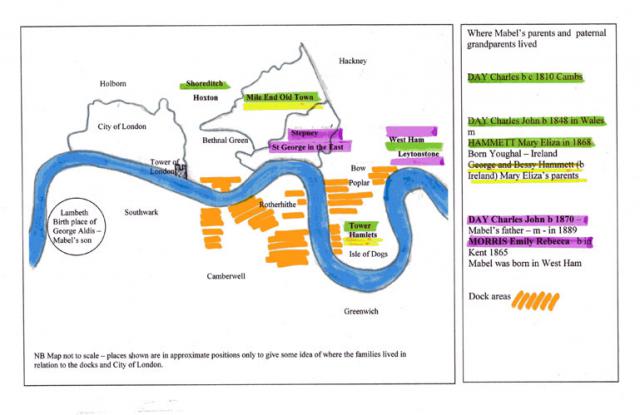 London Map
Daughter Sarah was born the 26th January 1841 at 44 Hyde Place in the parish of St John the Evangelist; and the next child, Martha, was also born in Westminster c1846 though the registration has not been found. Alfred, aged 20 in 1841, looks to be a younger brother of Charles, and Anne presumably his widowed mother. But since the return describes Alfred as a married man, one wonders where his wife was. Perhaps he was working with Charles on the same building project while his wife was elsewhere.
Why Charles appears in Westminster, London, is not difficult to imagine; the huge public works being undertaken at the time will be looked at shortly in some detail. Less well known, however, are the changes, equally spectacular in their own way, that were occurring in and around Cambridge.