Mabel Victoria Day (1897 - 1943)
GEORGE HALLANDAL
The same census shows George and Caroline still at 2 Bale Street with their 3-month old daughter, Alice, who was born the 15th December 1870 and baptised the 15th January 1871 at St Dunstan's, Stepney.
By now George is described as a "grocer's warehouseman", and the couple have two elderly lodgers, John PRETT, aged 71, and his wife Philadelphia, aged 78. Sadly, Alice must have died young because by 1881 the couple has another Alice, aged 4. A son had also been born to them, named George Charles Edwin in honour of both grandfathers, and baptised the 9th February 1873 at St Thomas, Stepney; but he too seems to have died by 1881.
Daughter Caroline Mary was baptised the 20th December 1874 at St Dunstan's, Stepney, and the 1881 census on Essex provides Alice Mary born c1877 and Edith born c1880. The whole family appears at 104 Rokeby Street, West Ham, Essex.
| | | | | | | |
| --- | --- | --- | --- | --- | --- | --- |
| George | HALLANDAL | Head | M | 35 | | b. St George's |
| Caroline | HALLANDAL | Wife | M | 34 | | b.N.Wales |
| Charles | DAY | Father in law | Wid | 72 | Stonemason | b.Cambridge |
| Alice | HALLANDAL | Dau | | 4 | | |
| Edith | HALLANDAL | Dau | | 17 months | | |
| Caroline | HALLANDAL | Dau | | 6 | | |
By this time Caroline's father, Charles, a 72-year old widower, is living with his daughter and son-in-law, Eliza having died the 30th September 1877, aged 66, at 1 Bale Street; Charles registered the death which was certified as due to bronchitis. The sad decline of this family continued with the early death, at age 38, of Charles's son and Caroline's brother, Charles, of diphtheria in 1888, followed six months later by the death of Charles himself, the 11th October 1888, at the age of 79. Referred to on his death certificate as "mason of West Ham", Charles died of "chronic cerebritis" in the West Ham Union workhouse in Leytonstone. It seems inconceivable that this dignified and admirable man, whose whole life was given to the practice of his trade and to the raising of a large family, should have ended his days in this pitiful way. Presumably he became too ill for Caroline to continue looking after him; and in any case she had problems of her own, since she was now a widow herself, George having died the 23rd December 1886 of emphysema and bronchitis, aged only 40, at 104 Rokeby Street. So poor Caroline had to deal with three deaths - husband, brother, father - in the space of two years, in addition to the always devastating loss of at least two of her own children.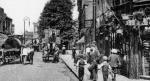 London Street scene c 1890
Caroline's declining fortunes are reflected in the 1891 census on Bromley, Poplar, where she is listed as a widow of 44 with daughters Caroline (16) and Georgina (3), who must, incidentally, have been a posthumous child of her father. Caroline is now having to work as a "charwoman" while daughter Caroline is in general domestic service.
1891 Census 27 Arnold Place, Bromley, Poplar
HALLANDAL
Caroline
Head
Wid
44
Charwoman
N.Wales, Conway
HALLANDAL
Caroline
Dau
Unm
16
Domestic servant
London, Stepney
HALLANDAL
Georgina
Dau
3
Essex,Stockton
Where were Alice, Edith and Ellen? Alice, at 14, could have been in domestic service elsewhere; but not, surely, Edith, at 10, and certainly not Ellen, at 6. Ellen, we know, was alive in 1901, but again there is no mention of Edith who must be presumed to have died. In 1901 Caroline is still a widow having to "char" to earn a living, with two unmarried daughters doing the only work available to contribute to the household income.
1901 Census: 62 Swaton Road, Bromley All Hallows, Poplar, London
Caroline
HALLINDEL
Wid
54
Charwoman
N.Wales, Bangor
Ellen
HALLINDEL
S
16
Trouser finisher
West Ham, Essex
Georgina
HALLINEL
S
13
Domestic servant
West Ham, Essex
Whether nephew Charles John with his rapidly increasing family was any better off as a dock labourer is impossible to say; at least he was a generation younger, and he and Emily had six children, all of whom had survived infancy, to raise. Moreover, as a man already in his thirties at the turn of the century, he would be spared the prospect of active service in the Great War.
1901 Census: 21 Florence Road, St Luke's, West Ham, Custom House
Charles J.
DAY
Head
M
32
Dock labourer
London
Emily R.
DAY
Wife
M
34
Woolwich,London
Daisy
DAY
Dau
S
11
Poplar, London
Charles William
DAY
Son
S
9
Plaistow,West Ham
Frederick J
DAY
Son
S
8
Essex, West Ham
William H.
DAY
Son
S
5
Essex, West Ham
Mabel V.
DAY
Dau
S
3
Essex, West Ham
Jessie E.
DAY
Dau
S
11 months
Essex, West Ham
Emily, in fact, was born, not in Woolwich, but in Littlebourn, Kent; and Daisy's birth registration has never been found, despite a wide search. Charles and Emily certainly had one further child after Jessie, and possibly another before the birth of Millicent Rhoda ('Millie') the 22nd January 1905 at Custom House, West Ham. By 1905 Emily would have been aged 40, and no birth registrations have been found for the couple after this date.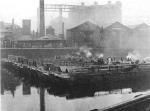 Stepney Electricity Station from Regent Canal Dock 1933
So all roads lead to London. Charles DAY worked in London during the 1840s, three of his children were born there, and he spent his later years in the East End until his death in 1888. His son Charles, though born in Wales, spent his adult life in East London, while his grandson Charles John apparently spent his entire life in Dockland and the adjacent part of Essex. Charles's daughter Caroline also seems to have become a Londoner after her peripatetic childhood. Mary Eliza HAMMETT and her parents, like many Irish before and since, sought a better life in the big city. Finally, Emily Rebecca MORRIS, though born in Kent and descended from several Kentish families over many generations, met and married Charles John DAY in London. Her family was living at the time at Latimer Street, and she and Charles were married in the parish church of St Peter, Stepney, in 1889.
Since all of their seven children were born in Dockland, they can truly claim to be Londoners, even cockneys. Their grandson, George Aldis, with Londoners as parents on both sides, certainly feels himself to be a Londoner, at least partly, despite having lived there only intermittently.
The difference between the life of George Aldis, certainly his adult life, and that of his mother Mabel Victoria DAY and of her parents is almost too huge to contemplate; much greater than the difference between his life and that of his children, born in the late 1960s and early 1970s, which is more a matter of degree than of substance, though with at least half of their lives to come, of course, they could witness changes and developments equally massive and transforming. From the perspective of the start of the 21st century, however, it can reasonably be claimed that, whereas George Aldis is fortunate to have survived World War 2, Mabel's life was dominated and eventually cut short by war. George grew up in the hard and often dreary post-war period which was nevertheless full of optimism with a sense of new beginnings and fresh purpose. He greatly benefited from the opportunities available in that social climate and enjoyed a stable existence denied not only to his mother and her generation but also to his children's generation. Did Mabel ever know stability in her life? Possibly at home; we simply do not know, But certainly not in the life she experienced in London's East End and as an adult. Her father may have found regular work as a docker, but there was much competition for jobs and wages were low. Apart from the periods of war, the 1930s were a dreadful decade for the working classes. No sooner was Mabel into an apparently stable relationship with George Mafeking Aldis and the birth of her son than World War 2 separated her from her son, exposed George to the daily hazards of fire fighting, and led to her own death before the war was over.
This account by Mabel's only child is an attempt to piece together the various strands in her background and ancestry as a small tribute to her and to get to know her through this research in a way that was impossible in the few disturbed years that mother and child had together.