Mabel Victoria Day (1897 - 1943)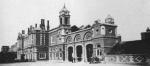 Bury St Edmunds Station
Moving on to 1851 and Claydon, we cannot be certain what Charles was working on in the area in Suffolk since there is no specific mention of him in parish records, in the Ipswich Journal 1850-1855, or in available records relating to large building projects being undertaken at the time. It seems highly probable, however, that Charles was engaged on one of the many works associated with the construction of the Mid Suffolk Light Railway. Begun at Brantham near Ipswich in August 1844, the work employed a large number of masons from 1844 on various bridges sub-contracted to John Fisher. Additionally, tunnels and stations were also needed over several years, and particularly large and ornate stations were built at Stowmarket, Bury St Edmunds, and Needham Market. Official records which have survived list only principal contractors and sub-contractors; so not surprisingly Charles is not mentioned by name. Clearly, however, many experienced stonemasons were required over a considerable period of time, and this is exactly the sort of work that Charles had been doing for some 20 years.
Claydon is a small village about 4 miles from Ipswich, and during the 1850s it was a busy thoroughfare, being the junction of turnpikes from Bury St Edmunds and Norwich. Intriguingly, the same census that reveals Charles and his family in Claydon also lists two other DAY familes:
Claydon HO/1107/1797 f.9
John
DAY
Husband
41
Agric.Lab.
b.Bramford
Maria
DAY
Wife
42
b.Barnham
Hezekial
DAY
Son
18
Agric.Lab.
b.Claydon
James
DAY
Son
12
Agric.Lab.
b.Claydon
Ellen
DAY
Dau
9
Scholar
b.Claydon
Claydon HO/107/1797 f.27
John
DAY
Husband
66
Agric.Lab.
b.Somersham
Lydia
DAY
Wife
47
b.Barnham
Samuel
DAY
Son
16
b.Barnham
Mary A.
DAY
Dau
8
b.Claydon
Henry
DAY
Son
9(?)
b.Claydon
Robert
DAY
Son
9 months
b.Claydon
Though not born in Cambridgeshire, it seems unlikely that these families were not related, however distantly. The family of John DAY aged 41 has clearly been in Claydon for nearly 20 years, while that of the other John DAY is a firmly established Suffolk family. The elder John could be father to the younger, Lydia perhaps being his second wife. Claydon had some industry at the time, limekilns and whiting works; but they had been built several years previously and would not have required the skills that Charles had. His relations, if that is what they were, are described as agricultural labourers, a generic term for those without a trade or craft and who worked the land as farm labourers. In time it may be possible to discover what family links, if any, there were between Charles and his Suffolk 'cousins'.
Impossible to say when Charles left Suffolk, but by 1861 he was in Dover, Kent, with Eliza and the last four of their 9 children:
1861 Census Dover
Charles
DAY
53
Mason Stone
b.Cambridge
Eliza
DAY
50
b.Cambridge
Martha
DAY
16
b.London
Caroline
DAY
15
b.Wales
Charles
DAY
13
b.Wales
Alfred
DAY
11
b.Stepney
One building project which Charles might have worked on was the new St James's Church in Maison Dieu Road, not more than half a mile from Russell Street where Charles was based with his family. The foundation stone was laid in April 1860, and the church itself, 93 feet in length and 68 feet wide, was designed to seat upwards of 1,400 as the parish population increased significantly. Another possibility, even more likely perhaps, is Dover Harbour itself (again, about half a mile from Russell Place), construction of which took place between 1854 and 1864. The pier railway was laid around 1860 and the associated sea wall between early 1860 and summer 1861.
We do not catch up again with Charles and Eliza until 1871, by which time they are in London, living at 1 Bale Street, Tower Hamlets, Mile End Old Town, Stepney, and possibly retired. We know, of course, that son Charles and Mary Eliza HAMMETT married in Stepney parish church in 1868 and that by 1871 their two children were born.
Whether Charles, recorded as age 63, was still working we cannot be sure; son Charles, also referred to as a stonemason, presumably was, though if he was working as a mason the projects are not known; that he was still officially described as a stonemason in 1881 perhaps lends support to the assumption that he was thus employed, whether on his own account or with his father. What is to be made of the domestic situation of the two DAY families and that of Mary Eliza's parents, all of them living in the same area of Mile End Old Town? Ada Louisa was with her grandparents with whom she remained at least until 1891 and probably until 1893 when 'Bessy' HAMMETT died, her grandfather John having died between 1871 and 1881. Charles and Mary Eliza were living apart, at least temporarily, and the household at 1 Bale Street included a lodger, Maria Clarke, aged 32, whose husband was "at sea". Given that after Charles's occupation in the census return Mary Eliza is referred to as "wife absent", is it fanciful to imagine a relationship between the 24-year old Charles and lodger Maria? Probably it is, since by 1881 mother, father and son were living together, apparently as a family, at Emmott Street. Whether something had gone wrong with this marriage, or whether it was simply a case of exigency - accommodation pressures, the convenience of having willing grandparents living nearby - we can never know with any degree of certainty.
This much we know about Charles DAY born in his father's Britannia Bridge years. But what about his sister Caroline born in Bangor during the same period of her father's work? She must still have been living with her parents because, on the 7th February 1870, as a 23-year old spinster of 1 Bale Street, she married George HALLANDAL from next door at 2 Bale Street. George HALLANDAL, single and 24, is described as a "shopman", son of Edwin HALLANDAL, a "presser". The marriage was witnessed by Caroline's younger brother Alfred, then about 19, who must have been living nearby though apparently not with his parents, at least not at census time in 1871.